Mama Buzz, and reviewers, were provided with a complimentary copy of this book for blog tour purposes*
: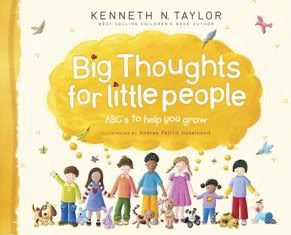 Big Thoughts for Little People
by Kenneth N. Taylor
Ages 3-7
Hardcover retails for $14.99
Big Thoughts for Little People is a charming little book. It is part devotional book, part story book, part character lesson book, part picture study book. Each two-page spread covers one letter in the alphabet, which begins a word the lesson is about.
For example, the letter C starts a page about crying:
C is for crying.
It hurts when you fall,
But please do not cry
About nothing at all.
Each page then goes into a paragraph to discuss the subject of the page. On the C page the author discusses how crying is OK when a child is hurt, but how we shouldn't cry we aren't really hurt. (I think, with a house full of girls, this was my favorite page. My life, it seems, is all about crying for nothing at all.) Then there are questions for the child. (Why is the girl crying?) Some ask questions about the subject. Others ask the child to examine the illustration. (On the H page: Which children are being helpful?) And hidden in every illustration is a ladybug to search for. The page ends with a Bible verse.
The age recommended for the book is 3-7, but I think age 3-5 would be best. My biggest gripe about the book is that the Bible verses at the bottom of each page are in The Living Bible translation. I'm sure it's done to put the verse in a language more easily understood by young children, but I would prefer a literal translation instead of a paraphrase. I want even my young kids learning Bible verses that we would read in family devotions and church services, so that she can connect what she hears in books like this to what is happening in the rest of her life. It could also be used as a memory verse. I won't have my kids memorize paraphrased verses. Of course, the parent could just read the suggested verse out of a Bible instead of reading the one at the bottom of the page.
While the book is charming, I think the best use of the book would be as a daily reading activity with a pre-schooler, rather than a devotional. I think it's a little shallow for a devotional book, even for pre-schoolers. But it would be a fun activity to do with a pre-schooler while my older kids are doing school work. My favorite part is the illustrations that Lauryn enjoyed. She liked to point out the parts of the pictures that went with the subject of the page.